Heat Sauna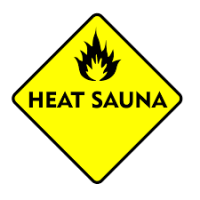 Churchgate 48a
SK1 1YG Stockport
Verenigd Koninkrijk
0161 474 7432
[Bewerken]
Faciliteiten
Bar / Cinema / Droge sauna / Jacuzzi / Lockers / Lounge / Douches / Snacks / Stoombad / Tv ruimte / Wifi
[Bewerken]
Openingsuren
*
| Dag | Uren |
| --- | --- |
| maandag | 13:00 - 22:00 |
| dinsdag | 13:00 - 22:00 |
| woensdag | 13:00 - 22:00 |
| donderdag | 13:00 - 22:00 |
| vrijdag | 13:00 - 22:00 |
| zaterdag | Vanaf 13:00 |
| zondag | Tot 22:00 |
* Controleer steeds de actuele data via de officiële site van de sauna.
[Bewerken]
Prijzen
*
* Controleer steeds de actuele data via de officiële site van de sauna.
Galerij


Schrijf een beoordeling over Heat Sauna
Beoordelingen
Saunas should be exciting something to look forward to so i visited Heat in Stockport last week. £14 entry fee, ok, towel and locker key into a small cramped space lockers not overly secure, stepping over beer barrels up some stairs. Shower first, two not working shower area not clean grubby, steam room not working although no reduction in price and wasn't told,, visited Blolerhouse in Sheffield week before were I was told steam room wasn't working and the price was reduced,, large jacuzzi water tepid not overly bubbly. Three spaces to watch porn and a like warm sauna, usually I can't stay in a sauna very long managed 30 mins here as there wasn't anything else to do. Clientele including me and I was there for 3 hours there was a turn over of 9 guys mostly older, no problem with that,. Plenty of lube and condoms, but all in all I wouldn't bother if you are looking to a great sauna experience for me turned out to be a very expensive wank
Went for the first time yesterday not many there but within 30 mins id hit up with a guy and sucked him off in the jaquzzi and finished him off in one of the rooms will defo be going back 10 out of 10 for price, friendly staff,regulars for all tastes throughly enjoyed myself
Nice friendly sauna, small but great fun. Nice to relax in steam room & sauna before some fun. Left with a smile knowing I'd made someone have a even better day
This is seriously the best sauna out there! It's clean and professionally run with the nicest staff. You won't find a better one trust me! Oh and it has a great bar area too for drinks. I leave happy and satisfied every time I go here!
This is the best sauna in the north west! Seriously! You won't get a more friendly non judgmental atmosphere anywhere! Chris The manager is an amazing host and hires the best staff who ALWAYS serve you with a smile! Did the rest of the saunas! If u want fit guys with no attitude then I suggest u pay a visit to this place!!
Lovely sauna, very friendly and quite clean. Some nice fit lads in there and quite willing to have a really good time. Make you feel special.
Had a lot of good times there I am missing the steam room have some nice times in there considering how big i am 6ft 2in tall i can stretch out in there and relax. Can not wait to get back.
Fantastic afternoon at heat suna Stockport nice and clean helpful staff went home very happy
Go here once a month it's a small compact staff helpful always clean and most of all you'll get some action mainly older guys but always pleasant experience.
x
Ervaring met Heat Sauna?
Opmerkingen of vragen over deze pagina?