Heat Sauna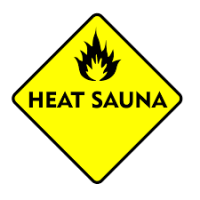 Churchgate 48a
SK1 1YG Stockport
Royaume-Uni
0161 474 7432
[Modifier]
Équipements
Bar / Cinema / Sauna sec / Jacuzzi / Casiers / Salon / Douches / Snacks / Bain de vapeur / Salle de télévision / Wifi
[Modifier]
Heures d'ouverture
*
| Jour | Heures |
| --- | --- |
| lundi | 13:00 - 22:00 |
| mardi | 13:00 - 22:00 |
| mercredi | 13:00 - 22:00 |
| jeudi | 13:00 - 22:00 |
| vendredi | 13:00 - 22:00 |
| samedi | De 13:00 |
| dimanche | Jusqu'à 22:00 |
* Toujours vérifier les données actuelles via le site officiel du sauna.
[Modifier]
Prix
*
* Toujours vérifier les données actuelles via le site officiel du sauna.
Gallery


Écrivez un avis sur Heat Sauna
Avis
Nice friendly sauna, small but great fun. Nice to relax in steam room & sauna before some fun. Left with a smile knowing I'd made someone have a even better day
This is seriously the best sauna out there! It's clean and professionally run with the nicest staff. You won't find a better one trust me! Oh and it has a great bar area too for drinks. I leave happy and satisfied every time I go here!
This is the best sauna in the north west! Seriously! You won't get a more friendly non judgmental atmosphere anywhere! Chris The manager is an amazing host and hires the best staff who ALWAYS serve you with a smile! Did the rest of the saunas! If u want fit guys with no attitude then I suggest u pay a visit to this place!!
Lovely sauna, very friendly and quite clean. Some nice fit lads in there and quite willing to have a really good time. Make you feel special.
Had a lot of good times there I am missing the steam room have some nice times in there considering how big i am 6ft 2in tall i can stretch out in there and relax. Can not wait to get back.
Fantastic afternoon at heat suna Stockport nice and clean helpful staff went home very happy
Go here once a month it's a small compact staff helpful always clean and most of all you'll get some action mainly older guys but always pleasant experience.
x
Avez-vous d'expérience avec Heat Sauna?
Remarques ou questions sur cette page?