ME1 Sauna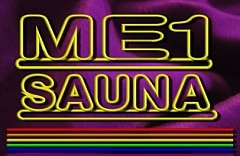 Foundry Wharf High St
ME1 1TH Rochester
United Kingdom
01634-401226
[Edit]
Facilities
Bar / Cabines / Dry sauna / Internet / Lockers / Lounge / Showers / Smokingroom / Steam bath / Whirlpool
[Edit]
Openinghours
*
| Day | Hours |
| --- | --- |
| monday | 10:00 - 21:00 |
| tuesday | 10:00 - 21:00 |
| wednesday | 10:00 - 21:00 |
| thursday | 10:00 - 21:00 |
| friday | 10:00 - 21:00 |
| saturday | 10:00 - 21:00 |
| sunday | 11:00 - 20:00 |
* Always check the current data via the official website of the sauna.
[Edit]
Prices
*
| Day | Price |
| --- | --- |
| - | £ 12,00 |
| - (student card) | £ 9,00 |
| - (Weekend pass) | £ 18,00 |
* Always check the current data via the official website of the sauna.
Standard: £ 12,00
Standard: £ 9,00
Standard: £ 18,00
Write a review about ME1 Sauna
Reviews
Excellent place for enjoyment nice guy's always my favourite place in UK clean and big players room
Have been to me1 many times, good facilities and friendly staff, have had good experience with other men, would recommend me1.
Great nude only day on saturday twice a month,enough room for a good ???? day facilities are very good.
I'm a dresser who goes on the trans girl days very nice club very clean always makes me feel extra naughty once inside. Hotpink
Fabulous place lovely staff clean fill safe and comfy and two days in the month crossdresser s love to be dressed up in ME1 owner Tim great guy very helpful
Best sooner I've been to very clean customers and staff very friendly well laid out and always busy put some of the London ones to shame
Great place went before the last lockdown very clean well laid out very friendly staff cater for all needs well worth a trip from London can't wait to go back
Clean and friendly. Good facilities
Been to the m1 many times always had great fun very nice people that go there are all like minded very comfortable environment to explore your inhibitions and of course for me some beautiful men I like hairy tights and plenty of them there extremely safe extremely clean I'm very relaxed never never had a bad moment always found what I desired can't wait for it to really open thoroughly recommend it great place for us guys to enjoy ourselves❤❤❤????
Very hit and miss with guys here. First visit I had 4 guys fuck me, second visit 8 guys fucked me. Was hoping for more on my third visit but only had 2 guys fuck me, and one of them I arranged to meet there. Hoping to beat my 8 guy record when the place opens up again.
I enjoy going to me1, friendly staff and lots of fun in the different rooms, I have tried 3 somes and more in the dark room, would recommend Me1 to anyone I meet.
I like to COME here when i can and have never failed to have fun, but since finding i enjoy giving as much as receiving i have never failed to suckseed.
I enjoy going to me1, friendly staff and good facilities, never fail to meet men there who want to have sex in a safe environment, I especially like naked days, will be going very soon.
Use this sauna around once or twice a month! Staff always friendly also very clean with good facilities, sadly a few guys with some attitude but on the whole a good place to relax and have fun, I am a Total Bottom and sometime find it hard to get any action but maybe that is because I am an older guy slightly overweight! Cannot for the life of me see the point in naked days? Are we not naked anyway while in sauna etc? Anyway apart from this a really nice venue which needs more people to visit so come on guys come along and get your kit off.
I'm just visiting and went in start very friendly and the guy who served me was hot as well, Wish he was naked, Great clean environment, friendly guys there cant fault this place.
Great place, clean and well presented, worth twice any other sauna I have been to
x
Experience with ME1 Sauna?
Remarks or questions about this page?