Club 3000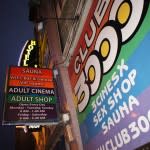 Jamarlaan 9
1000 Brussel
Belgium
(32) 2 522 10 23
[Edit]
Description
Founded in 1993, 6 floors high with wi-fi at all 6 level and accessible by an elevator so that all your hottest dreams can become reality. 2 steambaths, 2 jacuzzi, 1 sauna, a large sundeck, 21 video rooms silver, gold and platinum, 9 public room, 120 lockers, the cage, glory holes, the sling rooms, a large living room and a bar, the mezzanine and its gym, a very large cinema showing video format, many corridors, a wintergarden and a dark room. You can also enjoy a Californian massage in a very relaxing atmosphere by professional, handsome, muscular therapists.
[Edit]
Facilities
Bar / Cage / Cinema / Darkroom / Garden / Glory hole / Gym / Jacuzzi / Lockers / Mezzanine / Orgy den / Outdoor terrace / Piss-sex room / Public rooms / Relax area / Sling / Video room
[Edit]
Openinghours
*
| Day | Hours |
| --- | --- |
| monday | non stop |
| tuesday | non stop |
| wednesday | non stop |
| thursday | non stop |
| friday | non stop |
| saturday | non stop |
| sunday | non stop |
* Always check the current data via the official website of the sauna.
[Edit]
Prices
*
| Day | Price | Age |
| --- | --- | --- |
| - (Sauna & Video Sex Club) | € 18,00 | - |
| - (Sauna & Video Sex Club) | € 8,00 | max. 26 |
| - (Video Sex Club) | € 15,00 | - |
| - (VIP Room) | € 22,00 | - |
* Always check the current data via the official website of the sauna.
Standard: € 18,00
Standard: € 8,00 (age < 26)
Standard: € 15,00
Standard: € 22,00
Gallery


Write a review about Club 3000
Reviews
grand sauna , mais pas toujours bien tenu.... des travaux nous empeche de beneficier de toputes les options proposées.
Amusant, leuke jongens, spijtig ben ik er meermaals bestolen geweest, hygiëne laat soms te wensen over
Zalig daar je word gepijpt je wordt genomen de masage je doe wat je zelf wil doen
kom er al jaren lekker kinky en iedereen welkom jong ouder dun dikker wit of gekleurd soms weinig volk altijd werken die weinig opleveren en niet bepaald netjes maar fun
Just a great place to go if you want sex
Kwam er meerdere keren per week in mijn studententijd, was op wandelafstand van mijn kot. Was altijd heel gezellig, niet enkel veel seks maar ook gebabbel aan de bar en jacuzzi. Veel meer Noord-Afrikanen en zwarten vergeleken met de overige sauna's in Brussel wat voor mij altijd een pluspuntje was; zelfs midden in de nacht was er wel volk te vinden. Mij zie je er zeker terug wanneer ik in de buurt ben !
ben er jaren bijna elke week geweest, altijd vriendelijk behandeld geweest, door omstandigheden kom ik er nog weinig maar mis het enorm, absolute aanrader voor dates te vinden, ideaal naaktzonneterras ook, absolute aanrader als je in brussel bent,
Only a few minutes and you know what horrible sauna is...
Samen met macho de betere in Brussel. die andere...; laat maar. Nu zoals hier onder ook gezegd wel wat ouder volk ( niet opdringerig ) maar dat hoeft niet altijd een minpunt te zijn ! veel vernieuwingen gedaan en nog steeds. deze sauna spreekt me het meest van al aan. soms heb je er een top belevenis en soms is het enkel "sauna" ;-)
Je suis allé et j'ai fait des rencontres sympa. Dommage qu'il n'y avait pas beaucoup de monde. J'y retournerai volontiers.
Très bon sauna, pas parfait, mais hot !!
sauna très agréable rencontres hot dès le vestiaire et à tous les étages aime particulièrement les slings et la dark room
Sympa , agréable, souvent assez hot , pratique pour les fana de massages ,j'y vais aussi pour les coins détentes. La terrasse est super agréable en été , 2 espaces tv plus un coin sofa prés du bar.Moi, je trouve les serveurs sympa mais ça dépends aussi comment on se comporte avec eux.Un léger bémols, c'est tres grand , il manque un peu de déco et besoin d'un coup de pied au c.. à l'homme /la femme de ménage
suis passé hier vers 13 heures pas beaucoup de monde 2 pelés et 3 tondus
très beau sauna beaucoup de jeunes mecs tbm mmmm
alvast dank ik heb er super van genoten van enkele mannen te mogen genieten ik kijk er al naar uit voor volgende keer weer te kunnen genieten van een paar lekker mannen hmmmmmmmmmmmmmmmmmmmmm
très bel endroit beaucoup de rencontres intéressantes y ai été en semaine très tôt beaucoup dormaient encore mais l'endroit imper question hygiène un effort a été accompli
Beaucoup de jeunes à sodomiser excellent endroit
Hoewel het al een tijdje geleden is dat ik hier nog geweest ben, zal het nog zeer lang duren dat ik nog eens terug zou willen gaan. Ongezellige buurt, sinister personeel en een nog sinister cliënteel. Heeft meer het allure van één grote darkroom met losse tegels, bijna geen licht en af en toe eens een ongewenste griezel die u uitnodigt om hem te bepotelen. Wegblijven dus! Aan de jacuzzi te zien zijn er ook blijkbaar festiviteiten als 'Golden Shower' of zelfs bruine glijbanen waar je je beter geen verdere vragen bijstelt. Kortom, een plaats om te vermijden als je vieze ziekten wilt voorkomen.
tres agréable beaucoup de rencontres intéressantes
Very dissapointing place, will never recommend ! Very unfriendly staff as well ! Zeer ontgoochelende sauna en onvriendelijk personeel, helemaal niet aan te bevelen
J'y vais de temps à autre. J'aime bien le cadre, les heures d'ouverture. Ils ont fait un gros effort pour la propreté, le sauna, le jacuzzi et la piscine fonctionnent. J'apprécie aussi les moments coquins.
x
Experience with Club 3000?
Remarks or questions about this page?