Kouros Sauna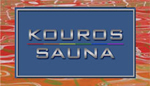 Botermelkbaan 50
2000 Antwerpen
Belgium
0032 3 6580937
[Edit]
Description
The Kouros Sauna is located in a spacious residential, wooded area, just out of Antwerp. The owners, Ed and Rob, have transformed this sauna, after a radical renovation, into a heavenly spot. The sauna is surrounded by a charming, Mediterranean garden, including a large terrace, big pond and swimming pool. The premises are well screened off and naked sunbathing is permitted.
[Edit]
Facilities
Bar / Cinema / Darkroom / Finnish sauna (2) / Garden / Hammam / Labyrinth / Pool (2) / Private parking / Relax rooms / Restaurant / Television room / Whirlpool (2)
[Edit]
Openinghours
*
| Day | Hours |
| --- | --- |
| monday | 12:00 - 0:00 |
| tuesday | 12:00 - 0:00 |
| wednesday | 12:00 - 0:00 |
| thursday | 12:00 - 0:00 |
| friday | 12:00 - 0:00 |
| saturday | 12:00 - 0:00 |
| sunday | 12:00 - 0:00 |
* Always check the current data via the official website of the sauna.
[Edit]
Prices
*
| Day | Price | Age | Hours |
| --- | --- | --- | --- |
| - | € 18,00 | - | - |
| - | € 12,50 | max. 25 | - |
| - | € 15,00 | - | after 22:00 |
| wednesday | € 10,00 | max. 30 | - |
* Always check the current data via the official website of the sauna.
Standard: € 18,00
Standard: € 12,50 (age < 25)
Standard: € 15,00 (after 22:00)
wednesday: € 10,00 (age < 30)
Write a review about Kouros Sauna
Reviews
Dacht leuke middag tegemoet te gaan, buiten is het zeer mooi maar binnen is het oud, aftands en een allegaartje. Ik denk dat er dringend nood is aan opfrissing en als het binnenzwembad leeg staat, best vermelden op de sirene en een tegemoetkoming doen voor de klanten, ik ben al in verschillende sauna's voor heren geweest en deze is zeker de minste.
Ik kom er heel erg graag een mooie sauna. Lekker relext en elkaar in je waarde laten en een gemoedelijke sfeer. En ook leuke mannen komen er.
inderdaad een mooie verzorgde sauna...met alles er op en er aan....mooie accomodatie...vriendelijke bediening en...ja,leuke verzorgde mannen gevonden....ik kom zekere terug....tot ziens....
Mooie sauna met alles erop en eraan...gewoon zalig...vriendelijk mensen...doe zo voort...
Nice. Super toffe sauna en vriendelijke bediening en vooral leuke mannen ontmoet. Was mijn eerste keer maar zeker niet de laatste keer, ik kom snel terug. Groeten van Joris.
First visit for meand not the last. Verry nice Sauna. And the staff is friendly and the garden is beatiful !! Nice hot tub out site ! Loved it !! Als good food ill be comming back there for sure. I had a great day.
Beetje vervallen. En sommige mannen in zwembroek.
First visit, Very nice sauna. I enjoyed very much. personnel is very friendly. No one in bathing suit you only get a towel (I don't think you were at the same sauna Frank).
Sauna is ok, but to many childish rules. If you dont follow the rules staff can be quite agressive. A good sauna should profide it's clients with fresh water free of charge. And the new fashion is everyone in bathingsuite. I thought a sauna is to be naked, just a towel. Further more everything is old, wouldnt repeat it or recommend it.
goed uitgeruste sauna, leuke bar, professioneel en vriendelijke bediening, veel aandacht voor hygiëne. Ik kom er graag. En natuurlijke de prachtige tuin als oase op een mooie zonnige dag.
Je bent er al verplicht een drankje te kopen..... ,voor de rest valt het mee:)
Super sauna, komen hier al tijden! Voor ieder wat wils! Super vriendelijk personeel.
Geen enkele keer een aangename ervaring gehad daar Vuil Eten niet lekker(lasagne) Oude badhanddoekjes Veel te duur
Wat een heerlijk sauna nette bediening goed verzorgd alleen een opmerking je betaald voor je handoeken en baddoek
Zeer mooi sauna complex ! Voor iedereen is er wel iets te vinden en vriendelijke bediening
Mooi verzorgt en lekkere tuin en hete mannen
...ben er voor het eerst ontmaagd,heerlijke oudere mannen ,daar ga ik voor,ik draag altijd een bijzondere cockring en analsieraad,ik ga a.s vrijdag weer,tot dan!
Ben er na goede verhalen eens wezen kijken en het is inderdaad een schitterende gay sauna met een mooi ingerichte zaak en prachtige tuin. En ook de mannen waren erg lekker! Overigens is het personeel zeer behulpzaam en erg vriendelijk.
Grote sauna, mooie tuin, veel faciliteiten en lekker eten, wel een redelijk kleine hammam.
x
Experience with Kouros Sauna?
Remarks or questions about this page?